How delightful is it to pick out kitchen fare? Dishware, serveware, flatware, glassware, bakeware, cookware. It's all just wonderful. Out of all my recent explorations, here are a few of my favorites. And let's go ahead and be honest: they're all Anthropologie.

In my eyes, the "Swirled Symmetry" dishware set is a bohemian version of the classic china plate. The layered shades of blue add complexity and class, and allow it to be used for any meal, not just on special occasions.
Don't you just want to use these beauties to wipe your lips? Delicate and lovely.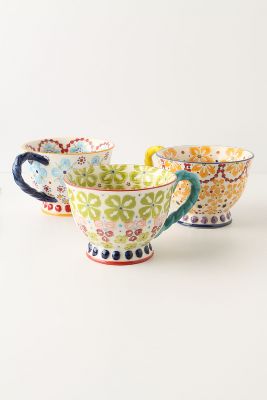 Happily, I already own a few of these perfectly-sized teacups. There's just something about the fact that they're painted in about a thousand different colors that makes drinking tea a little bit better.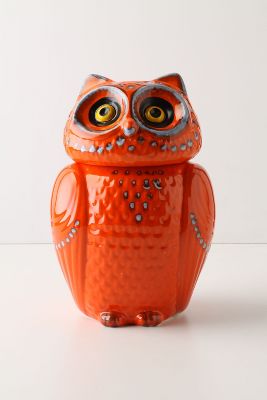 Hey there, my little owl. Are you full of cookies for me? I love your sunny color and your cheeky disposition, plus the fact that your belly is full of sweets.

La-de-de, let's eat some salad, shall we?
This platter, pitcher, & bowl set is about as colorful and cheerful as can be, and yet still toned down enough to be elegant.
So, what do you think? Are you in love, too?